Solar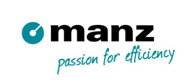 Manz India Pvt Ltd., a joint venture between Manz AG, Germany and Technicom-Chemie, is a provider of innovative integrated systems for the production of crystalline silicon solar cells and thin-film solar modules. Manz AG has over 25 years of experience in the fields of robotics, control technology, image processing, quality assurance systems, laser processing technology, and wet-chemical processes. As a high-tech equipment manufacturer for the solar industry, we specialize in:
Turnkey Production line for CIGS thin film modules -
Manz offers an integrated and fully-productive production line for CIGS thin-film modules that can be operated economically.
System solutions for manufacturing crystalline solar (cSi) cells and thin-film solar (tfs) modules-
with a focus on automation, metallization, wet chemical processing, measurement and testing technology, as well as laser processing technology and vacuum technology.